JOHN'S RACECRAFT

For over 25 years John's Racecraft has been providing the New England area with fine racecars and specialty vehicles. Quality craftsmanship and attention to detail top the list of our priorities. Each project is individually designed to your special requirements. Our services range from providing you a complete car to a minor update.
Whether it's a Racecar (Doorslammer, Dragster or Altered), Pro Street or Hotrod we can build it for you. Our racing customers have won many local races, track championships and NHRA & IHRA national events utilizing a John's Racecraft chassis, while at the same time garnering best-engineered awards. Our hobbyist customers have won numerous show car awards and been featured in various magazines with their Pro Streeters and Hot Rods.
ABOUT JOHN Ondrejko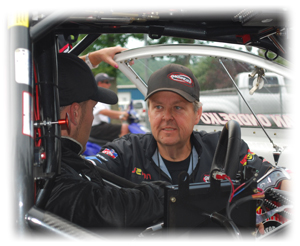 John Ondrejko was born in Roslindale, Massachusetts in November of 1957. He went to Catholic Memorial High School in West Roxbury.. He worked as a Paperboy, Garbage Truck Repairman and Tow Truck Operator before realizing those jobs were NOT his calling. When John was a boy he had a neighbor take him up to New England Dragway. From the moment he set eyes on the world of Drag Racing he knew his passion for the sport would drive him to success. When he turned 18 years old he began to play around with cars. Unlike normal 18 year olds John used his passion for cars to keep him out of trouble. Everyday he would come home from work, run into the backyard and begin working on his "Toys".
Growing up he had many cars but his true love was his 69' Camaro. John began modifying the Camaro to be a racecar. After months of working on the car, and saving money for performance parts he took it up to New England Dragway to race it. His car was fast. A 9 second car to be exact. in the 1970's if you had a 9 second car you were practically a local hero. After proving the car he had built worked better than most, he began getting asked to do work for other people. Realizing he would rather make money at this sport than spending it, he opened the doors to Johns Racecraft in 1977. Twenty years later he closed the doors to his Roslindale garage and expanded to a much larger facility in Brockton, which is where the business resides today.
John has alot of experience in the sport of drag racing. He has worked as a crew chief on multiple Pro Stock teams including Multi-time NHRA pro stock Top 5 finisher and National event winner. Chuck Harris. Among Johns many talents, he really prides himself most on his canny ability to set up a racecar to go down the track. He enjoys working with chassis setup, including ladder bar and 4-link setups.
John has spent the last 7 years as the crew chief on his sons Super Gas, Top Dragster and Top Sportsman entries. With his guidance and expertise they have accumulated over 30 race wins, 20 NHRA Wallys and 6 Championships.
When John is not working hard or at the racetrack he is a loving husband to his wife Karen and proud father of two sons Ryan Ondrejko and Jonathan Ondrejko. John's youngest son, the brains of the family, Jonathan is currently on a Full Scholarship at Boston University studying Politics.